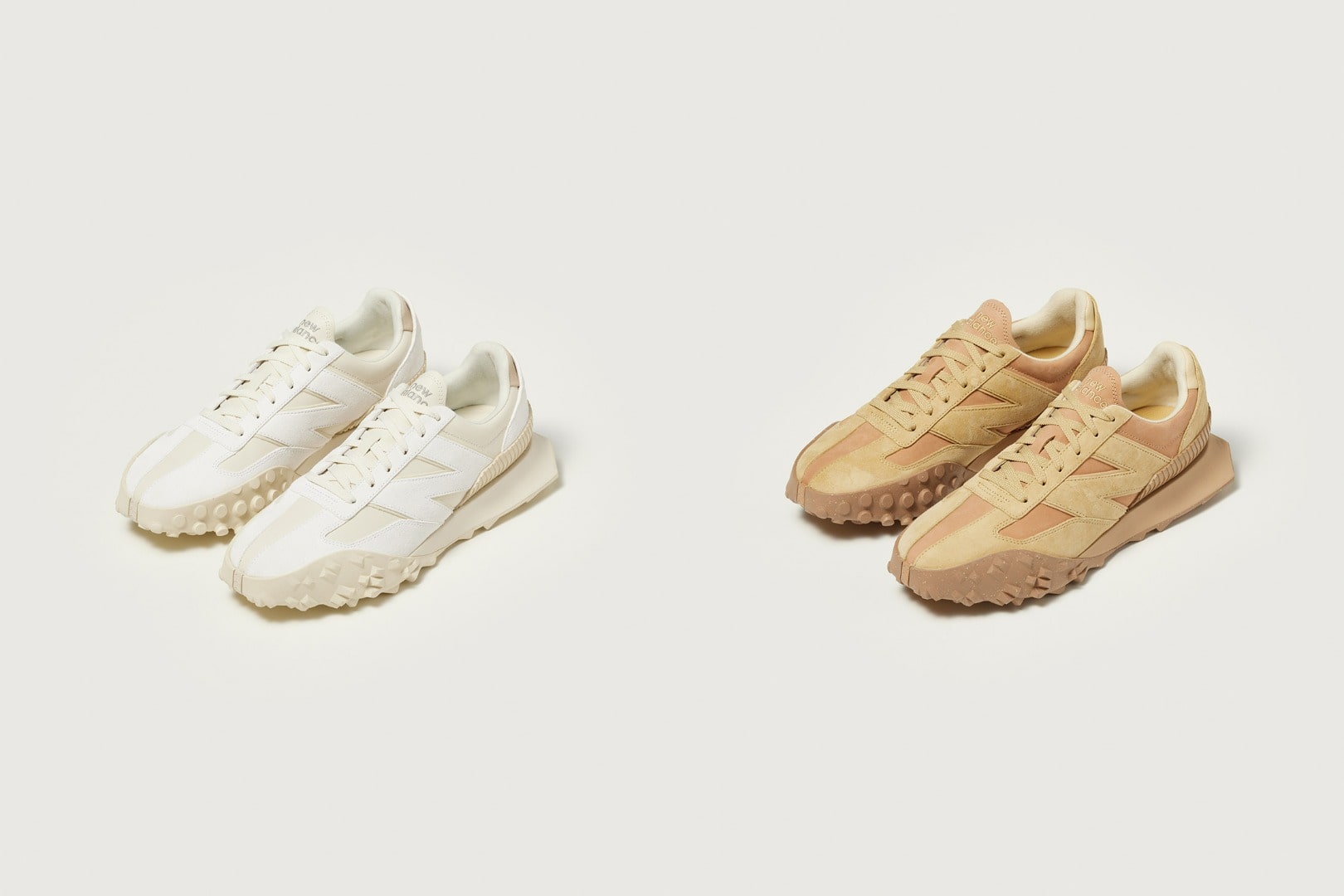 AURALEE and New Balance are back again with the second installment of the new collaboration model "XC-72" available online and at select retailers exclusively in Japan.
AURALEE × New Balance XC-72
Japan Limited Release " Camel & White "
Price:19,800 yen (tax in)
Size:23.0cm 〜 29.0cm (unisex)
Color:Camel / White
Winning announcement: Friday, December 9
 The XC-72 combines a unique sole unit inspired by past New Balance archive models with a sophisticated body shape.

With details such as an asymmetric outsole pattern, a multi-faceted heel, and a square toe inspired by concept cars from the 70's, it features a modern design that is both impactful and nostalgic.

In the AURALEE × New Balancecollaboration, three types of leather with different expressions are used for the upper part where mesh is arranged, creating a design that gives a sense of depth in one tone. .

The material used for each part is subtly changed for each color, and the combination of high-quality suede, nubuck, and smooth leather with attention to detail embodies the craftsmanship of AURALEE and New Balance.
 - Available at -

<Japan>
AURALEE ONLINE STORE
https://auralee.jp/online

New Balance Official Online Store
https://shop.newbalance.jp/shop/

T-HOUSE New Balance
3-9-2 Nihonbashi Hamacho, Chuo-ku, Tokyo

New Balance Roppongi 19:06
Tokyo Midtown Galleria 1F, 9-7-1 Akasaka, Minato-ku, Tokyo

DSMG E-SHOP
https://shop.doverstreetmarket.com/jp

DOVER STREET MARKET GINZA
6-9-5 Ginza, Chuo-ku, Tokyo

*Some stores will have the release available via lottery in advance, so Please check directly with each store / website for the sales method of each store.
Please note that even if you contact us, we may not be able to answer.


- Lottery Release at AURALEE ONLINE STORE -

Application period: 12/5 (Mon) 12:00 PM - 12/7 (Wed) 18:00 PM

Winner Announcement: 12/9 (Friday) AM 10:00 *Only winners will receive an email.

Payment method: credit card only

Delivery time: From 12/15 (Thursday) onwards

*It may take some time to complete the shipment of all products. Please note.
It is not possible to specify the delivery date and time.


- Please be sure to check the following and apply after acknowledging it -

・Please order only one pair per person.If you apply for more than one pair, we will cancel all of them. Applications for both colors will not be accepted.

・Items other than AURALEE × New Balance XC-72 cannot be ordered together.

・We cannot accept changes in color, size, email address, shipping address, etc. after application.

・If we detect that you have applied multiple times in a row by changing your registered information such as your address and name, we will consider your application to be from the same person and disqualify you.

・We do not accept cancellations of orders due to personal reasons such as "I ordered by mistake", "A family (or acquaintance) ordered without permission", or "The image of the actual product is different from the photo".

・We are planning to ship sequentially. Please note that it may take time to ship. You cannot specify the delivery date and time.

・If the customer cancels or refuses to receive the product, we will refuse to sell limited items from the next time onwards.

・If there is a problem with the delivered product, we cannot prepare a substitute product. We apologize for the inconvenience, but we will accept a refund.

・Please note that gift wrapping is not possible.

・If there is no defect in the product, we will ship it even if the wrapping paper and box are damaged. Please note.

・We do not accept purchases for the purpose of resale.

・We will not be able to answer inquiries about sales if you are unable to make a purchase.


- Regarding credit card payment processing -

・After the winner is announced, actual sales will be processed for winning customers, and provisional sales will be canceled for unsuccessful customers.

・Depending on when the card was used, the cancellation process may not be reflected in the billing of the card company.

・Please be assured that the card company will automatically correct and refund the amount.

・The timing of when the cancellation will be reflected depends on the contract between the customer and the credit card company, so please contact your credit card company directly. (In addition, since there is a time lag before the credit card company is notified after the cancellation process, the information may not have been notified to the credit card company at the time of the inquiry.In that case, please wait for a while. Please contact us.)

・It may take some time to receive a refund if you are unsuccessful, so we recommend using a lottery entry other than a debit card.

・Since the debit card will be debited immediately, refunds will be made at a later date if the winner is not selected. (Regarding the specific correction timing and refund method, such as "When will the refund be made?", "I was charged twice," etc. Please contact your card company.)


- About the personal authentication service "3D Secure" -

We have introduced the personal authentication service "3D Secure" so that you can use online shopping with peace of mind.

If you register in advance on the website of your contracted card issuer and obtain a password, you will not be able to use the card payment unless you enter the password when using the card.

As a result, only customers who have been authenticated as the cardholder can complete the payment procedure with the card, preventing unauthorized use (spoofing) by a third party.

Customers can easily use 3D Secure for free.


Please check the following points when using this service.

The card issuer supports 3D Secure.
Pre-register the required information (password) on the website of the card issuer.
*This is different from the 4-digit password.
If you have any questions, please contact your card issuer.


Click here for lottery inquiries
contact page

* During the lottery period, we will respond to inquiries about the ONLINE STORE.
Please contact us from [CUSTOMER / ONLINE STORE purchase items / shopping].
Weekdays: 10:00-18:00

*Please refrain from calling or inquiring at the store, as the store does not have jurisdiction over information regarding the lottery.